India is a diverse country with numerous languages spoken across its vast landscape. While Hindi and English are India's official languages, several other regional languages hold significant importance in different states. These regional languages reflect the cultural diversity and play an essential role in connecting people within their respective communities.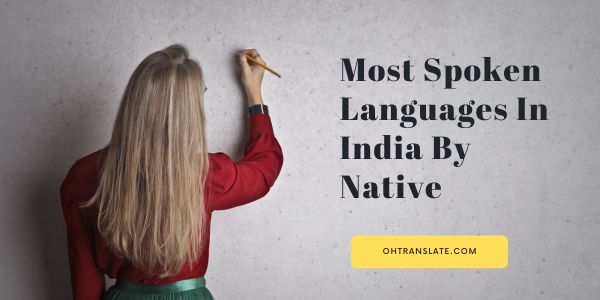 This blog post will explore the eight most spoken languages by native speakers in India. From North to South and East to West, these languages have shaped Indian history, literature, art forms, and daily communication among millions of Indians.
1) Hindi:
Hindi is undoubtedly one of the most widely spoken indigenous language in India. It serves as a lingua franca for many non-Hindi speaking regions due to its status as an official language at both national and state levels. With over 44% of Indians considering it their mother tongue according to census data from 2011-12 (source: Censusindia.gov.in), Hindi holds immense significance nationwide.
2) Bengali:
Bengali stands second on our list with approximately 8% of Indians claiming it as their first language (source: Censusindia.gov.in). Primarily spoken by residents of West Bengal and Bangladesh along with some parts of Assam Tripura Jharkhand Odisha Andaman Nicobar Islands Meghalaya Mizoram Manipur Nagaland Arunachal Pradesh Sikkim Bihar Uttar Pradesh Delhi Maharashtra Kerala Tamil Nadu Karnataka Telangana Andhra Pradesh Chhattisgarh Madhya Pradesh Rajasthan Gujarat Goa Himachal Uttarakhand Punjab Haryana Chandigarh Lakshadweep Daman Diu Dadra Nagar Haveli Puducherry Ladakh Jammu Kashmir, Bengali has rich literary traditions dating back centuries.
3) Telugu:
Telugu ranks third on our list as one of the Dravidian family's largest-spoken tongues after Tamil Kannada Malayalam. Native to the states of Andhra Pradesh and Telangana, it is spoken by around 7% of Indians (source: Censusindia.gov.in). Known for its vibrant literature, music, and film industry, Telugu has a significant cultural impact on South India.
4) Marathi:
Marathi holds fourth place with approximately 7% of native speakers in India. Predominantly spoken in Maharashtra Goa Daman Diu Dadra Nagar Haveli, this language boasts an extensive literary heritage dating back to medieval times. It also serves as the official language of the Maharashtra state government.
5) Tamil:
Tamil occupies the fifth position among the most spoken languages in India. With over 6% native speakers across Tamil Nadu, Puducherry, Sri Lanka, Singapore, Malaysia, Mauritius Reunion Island, Seychelles, Gulf countries, Europe, North America, Australia, New Zealand, Africa East Asia, and Southeast Asia, it has a rich history spanning thousands of years. The classical works written in Tamil have contributed significantly to Indian literature and philosophy.
6) Urdu:
Urdu takes sixth place with nearly 5% native speakers primarily concentrated in Uttar Pradesh, Bihar, Jharkhand, Delhi, West Bengal, Assam Tripura, Karnataka, Kerala, Maharashtra, Gujarat, Madhya Pradesh Rajasthan, Uttarakhand Punjab, Haryana, Chandigarh Himachal Ladakh, Jammu Kashmir. Although considered one among Indo-Aryan languages like Hindi, Punjabi, Gujarati, Bengali, Marathi, Oriya, Sindhi, Nepali, Konkani, Bhojpuri, Maithili, Rajasthani, Chhattisgarhi, Magahi, Tulu, Kumaoni, Garhwali, Angika, Awadhi, Bagri, Bhili, Bundeli Dogri Harauti Kangri Khortha Kokborok Kulvi Kurukh Lambadi Lepcha Limbu Mizo Monpa Nicobarese Oraon Sadan/Sadari Saurashtra Sherdukpen Tamang Tangkhul Thado-Bodo Wancho Warli Yimchungru, Urdu has its unique script and vocabulary influenced by Persian, Arabic, and Turkish languages.
7) Gujarati:
Gujarati secures the seventh spot on our list with around 4% native speakers primarily residing in Gujarat Daman Diu Dadra Nagar Haveli Maharashtra Rajasthan Madhya Pradesh, Karnataka Telangana Andhra Pradesh, Tamil Nadu, Delhi. Known for its rich literary tradition and vibrant theatre scene, Gujarati is also spoken widely among the Indian diaspora settled across different countries.
8) Kannada:
Kannada wraps up our list of the most spoken languages in India. With approximately 3% native speakers mainly from Karnataka, Kerala, Goa, Maharashtra, Andhra Pradesh, Tamil Nadu, Telangana, Odisha, Puducherry, and Lakshadweep, it holds immense cultural significance as one of the oldest Dravidian languages. Kannada literature encompasses many genres, including poetry, drama, novels, and epics.
Conclusion:
India's linguistic diversity is remarkable, as each language represents a distinct culture with history and traditions. While Hindi remains widely understood due to its official status at national and state levels, regional languages play an integral role in preserving local identities. The eight most spoken indigenous languages discussed above – Hindi, Bengali, Telugu, Marathi, Tamil, Urdu, Gujarati, and Kannada – are just a glimpse into India's vast linguistic tapestry that continues to thrive amidst globalization.